Save 35% on Your Car Insurance
Get up to 4 Free Quotes
Buy Quickly & Easily
California Auto Insurance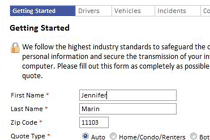 1) Tell us about yourself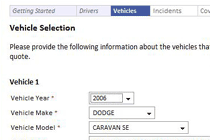 2) Select your car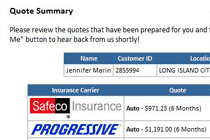 3) Get multiple quotes instantly!
Direct Choice Insurance is an online insurance agency in partnership with all the major US insurance carriers such as Hartford, Travelers, Progressive, MetLife and many more. Get instant side-by-side quotes from these companies at direct low-cost rates, and a personal agent that's always looking out for your best interests.
Get FREE California Auto Insurance Quotes
Understanding insurance can often be confusing and frustrating. There are different coverages and requirements for varying situations. Here's a quick guide that will help you determine what types of insurance is available, the scope and limits of each, and whether or not you need them. This quick-help guide was prepared exclusively by Direct Choice Insurance .com
California Auto Insurance Information
QUICK-HELP GUIDE
Liability requirements for California Auto Insurance
The term liability coverage refers to dollar amounts that you would be required to pay in the case that an accident caused by you resulted in bodily injury and/or property damage (BI/PD) to someone else. This BI/PD also covers any legal fees necessary to defend you in the event of a lawsuit.
The coverage is designated by three numbers, as an example: 100/300/100. The first 100 refers to $100,000 dollars that would be the maximum amount paid on your behalf for bodily injury / per person. The second number, 300, refers to $300,00 dollars that would be the maximum amount paid on your behalf for bodily injury / per claim. The last number, 100, refers to $100,000 dollars that would be the maximum amount paid for property damages. California Auto Insurance requirements specify a basic coverage plan that you would need, of which you could opt for higher limits.
Collision and Comprehensive
With Collision coverage, your insurance company pays you in the event damage was caused to your vehicle as a result of colliding with another vehicle. The important number to remember is the deductible. For example, a deductible of $500 dollars means that if damages to your car were $3,000, the company will pay $2,500, and you would pay $500 (the deductible).
Comprehensive covers damage to your vehicle in instances such as fire, theft, vandalism and floods. It usually provides reimbursement for a car rental during the time your are left without your car. Like collision, a deductible applies. California Auto Insurance code does not require you to have collision or comprehensive coverage.
Medical Coverage
With Personal Injury Protection (PIP) coverage is for instances where you require medical treatment. In the result of a car accident, PIP is used to pay for costs on treatment and related hospital expenses.
As an independent insurance agent, we can help and advise you in determining a coverage and a cost that is suited for you. Availability differs from state-to-state, however our agents are specialized in PIP coverage for California Auto Insurance.
California Auto Insurance Tips
Liability coverage pays other people for bodily injury and property damage, and is required in California . Collision, comprehensive, and PIP covers you, and is not required.

California Car Insurance | California Home Insurance | California Business Insurance


Compare up to 4 free quotes in minutes