Get up to 4 free
homeowners insurance
quotes in minutes!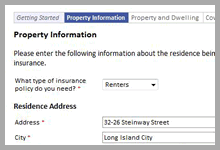 1)
Enter some information about yourself and your home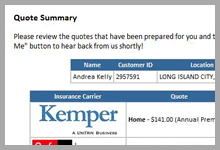 2)
Get multiple homeowners insurance quotes in minutes!
California Home Insurance Information and Options
Home insurance is for anyone who has a house, regardless of whether you own it, or rent. There are a variety of coverages available, and all are focused on protecting everything related with the place you live. Direct Choice Insurance agents can help you by explaining your options and getting you the lowest available rates.
Get a FREE Home Insurance Quote
California Home insurance protects your home in the event of any sort of damage, whether its minor or total destruction. For example, water damage caused by a broken pipe, or a destroyed home due to fire. The coverage is not limited to the actual structure of your home, but also to any of your possessions. In addition to this, home insurance also provides protection against many types of liability claims resulting from damages caused to others. In any case; structural damage, itemized loses, or liability claims, you and your home are protected.
California Home Insurance FAQ
QUICK INSURANCE TUTORIAL
Why do You Need it?
In many cases, lending institutions require you to have a home insurance policy if you have a mortgage with them. But considering the advantages offered by home insurance, the peace-of-mind of having a policy would outweigh any other consideration. Homeowners and renters alike enjoy extensive protection against all types of scenarios. Consider:
Your home is destroyed from a fire or a natural disaster such as a hurricane.
Land under your home cases structural damage.
Heavy rains cause flood damage.
You run a business in your home, and these activities cause an accident.
Burglars break-in to your home , vandalize it and steal your possessions.
Your pet bites a passerby, and injures them.
There are an endless number of situations that can cause severe financial loss to you; with California Home Insurance you can rest assured you will be covered in all cases so you can sleep at nights without worry.
When to buy Home Insurance?
Usually you purchase home insurance when you buy and/or move into a home. There are many options for coverage, and you can decide which ones you want. Direct Choice Insurance agents are always there to help explain the coverage and cost-benefits. Once a policy is written, you can make changes, or amendments, at any time in the future, and as often as you like. Our agents will keep you abreast of new laws, new companies with specializations, and competitive rates.
Who is Covered by Home Insurance
In essence, a California Home Insurance policy covers many people and many things. It covers replacement costs for loss and damages. It covers payments for liability claims, reimbursement for loss of possessions and even for loss of use of the house. Besides yourself, the homeowner or renter being protected, others also are. These include anyone named on a policy such as a spouse, residents of the home, hired home employees, and even short-term and long-term visitors.
Considering Insurance For Your California Home
Home insurance offers a broad spectrum of coverages for different individuals and varying situations. Each policy is customized to meet the exact needs of you and your home. Direct Choice Insurance agents are specialized in knowing which companies offer certain coverages, where they operate efficiently, and the breadth of their support and responsiveness. They match your needs not only with appropriate coverages, but also with the company that is the best fit for you. Your agent prepares all documentation for you, and explains exactly what you've purchased. And whenever a renewal comes due, he or she repeats the process to determine if your needs have changed and to find lower-cost / high-value companies that offer California Home Insurance.
California Auto Insurance
|
California Business Insurance
Compare up to 4 free quotes in minutes